Shadowsocks is one of the most popular proxy which can hide you identity so that you can surf the web more privately and securely.
In china, social media website are blocked and chinese people are unable to access the social media websites. People living in china mostly uses VPN types software to access the censored websites and most of the VPN softwares are also blacklisted by the chinese government.
A large number of internet users outside the china also uses the Shadowsocks proxy setup for hiding their identity. The installation of the shadowsocks server is very easy if you planning to buy a shadowsocks server from a VPN marketplace.
But if you have a tight budget and then you do not want to spend you hard cash then you would also like to setup your own server on Amazon aws (Amazon provides one year free trial) like me (And you can also install the shadowsocks on VULTR, Digitalocean etc.)
How to install Shadowsocks on Android Device free
In order to install shadowsocks on your android device, you need to follow below tutorial,
1. The very first thing which you need to do is to install shadowsocks client on your android device. This app will help you to connect the server quickly and securely. click on this link to download the shadowsocks client.

2. Once you installed the shadowsocks client on your Android device. Now you have to configure it. Follow the below tutorial.
How to Configure Shadowsocks client on your Android device
The Advance feature of Shadowsocks app lets you setup multiple profile so that you can easily switch between different accounts with different Proxy addresses.
To add a new profile, you just need to tap on the big plus button (located at the right hand side upper corner). You might see a default profile. You can edit or remove the default profile from there.
The shadowsocks app provides you three options i.e. "Scan QR code", "Import from clipboard", and "Manual Settings".
Here you need to tap on "Manual settings". See below picture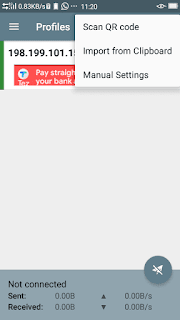 Now, you will find many options listed there i.e. (1) Profile Name, (2) Server, (3) Remote Port, (4) Password, (5) Encrypt method.
You need to fill all the options one by one which you have obtained from your Shadowsocks provider.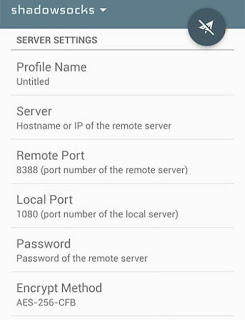 Profile Name: A meaningful name which you need to provide.
Server: The IP address of the server.
Remote Port: The port of the server like 8888.
Password: The password of the shadowsocks server.
Encrypt method: Leave as it is.
And the rest option you can leave unchanged.
Note:- You need to buy a subscription from a Shadowsocks provider which may cost you from 5$ to 100$ per month/year. If you don't have money to buy the subscription then you can also setup your own server on amazon aws (VPS) server for free for one year.
Now after putting all the required inputs just SAVE the settings. (Tap on the option located at the right hand side upper corner).
Now go back to the main screen and click the Action button.
And then Accept the VPN prompt.
That's it, you're connected.
How to Filter out Chinese websites
Shadowsocks is very popular in china because in China many websites like facebook, gmail etc are blocked by Chinese Govt. And the best thing about this app is that it provides you Routing (You can find this option at, Profile screen > Route (Under features settings) > and then select Bypass mainland China, by which you can easily bypass the great firewall of china. see below picture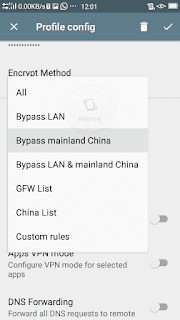 Thanks. I hope that the above step by step guide helped you to solve your problem of bypassing the censorship or the great firewall of china.
If you have any problem regarding the article or you have found out an alternative to solve your problem then comment in the below comment box.