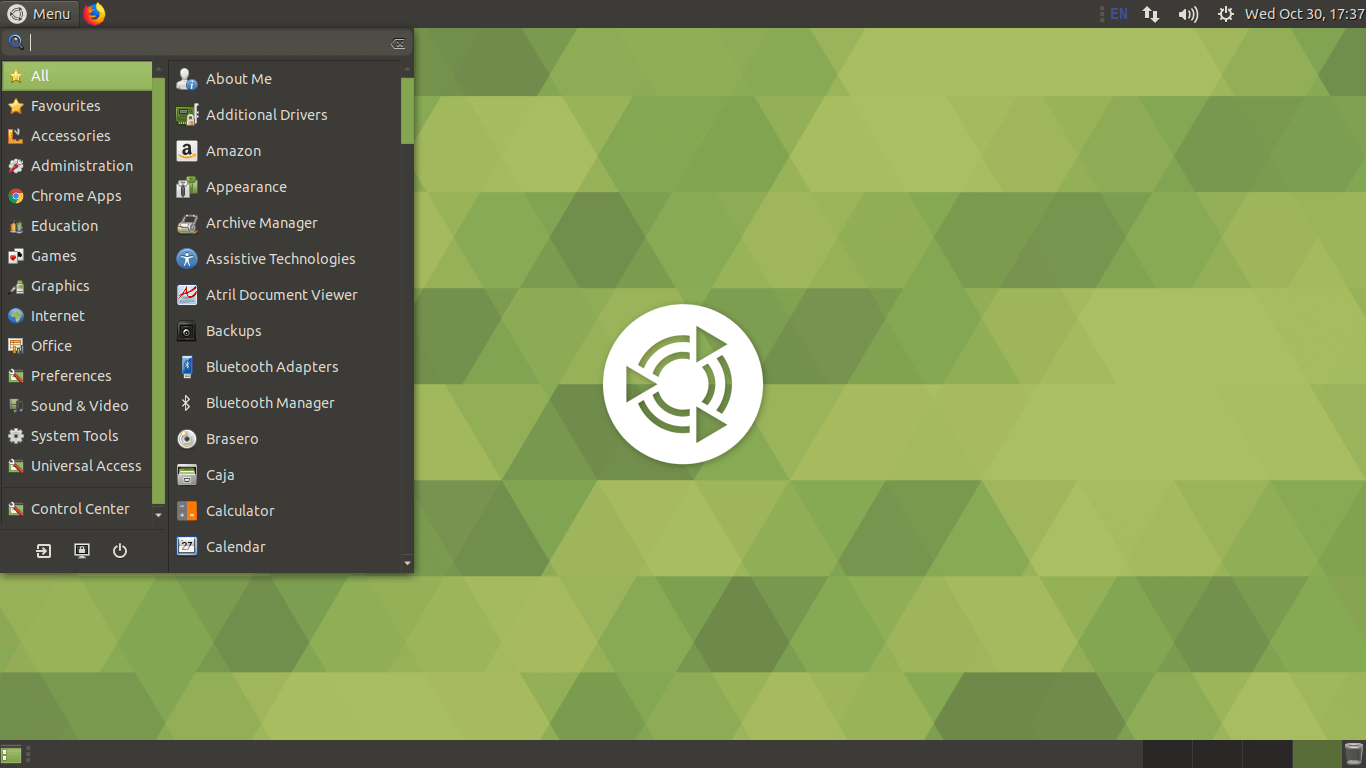 Introduction
Ubuntu Mate is one of the most popular and widely used desktop environment. The latest release of Mate is 1.22. The new version introduces numerous improvements and new features, including new desktop layouts, better support for HiDPI displays, as well as support for indicators by default.
One of the core features is the "Caja file manager" which can encrypt all your valuable and precious data. The other updated features include Mate Tweak, by which you can easily toggle HiDPI mode and Mate Dock Applet, which now features icon scrolling and matching.
Recently, I have updated my Ubuntu 16.04 to 18.04. The worst thing which I did not like is the desktop environment. So I have migrated to the Mate desktop which is very stable and reliable from the performance point of view. The best thing is that Mate automatically detects the amount of RAM available to your PC and then it decides how much to allocate to pre-loading and stuff like that.
5 Reasons to install Mate in your Linux environment
Ubuntu mate is the official application as it maintains GNOME 2 aesthetic, plus Unity felt "heavy" at the time. You can use Ubuntu support channels.
It is simple with good defaults like Gnome Disks, VLC media player, ExFAT support. It has a great community maintainted by a large number of developers.

It provides you the freedom to select software that you want (either proprietary or not). It can be customized as per your needs.

Mate also has the best terminal which you can use to access Shell in the Mate environment. The terminal has supported multiple profiles and tab in a single window (tabs). With it, you can easily run any type of application which is made to run on xetrm, VT102, and VT220 terminals.

If you like to code or write a lot then you will fall in love with the Pluma text editor. It does not have advanced features but it will surely satisfy you in terms of reliability. I use it a lot to save text files and codes.
How to install Mate Desktop in Ubuntu Linux
A step-by-step guide to install mate in Ubuntu (mate desktop environment). The following tutorial supports Ubuntu 16.04 and also 18.04.
Note: Feel free to comment for any query and suggestions. You can find the comment box at the end of the article.
Before jumping into the step by step guide, first of all run the below command. The below command usually upgrade the packages to the latest version.
sudo apt update
Step by step guide
Step #1: Install Mate
Open terminal (CTRL + ALT + T). And then run the below command.
sudo apt install -y ubuntu-mate-desktop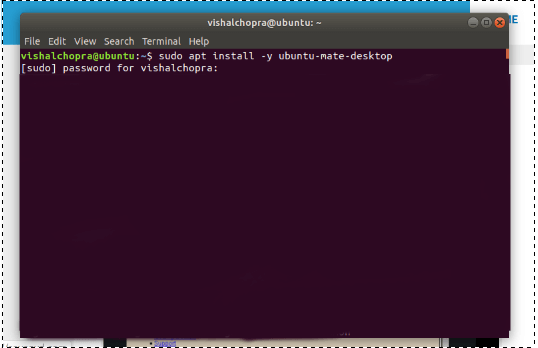 Do not forget to type your sudo password. And then hit enter to go proceeds.
You need to wait until all the packages gets downloaded to your linux system.
Step #2: Select a Default Display Manager
Once all the required pacakges gets downloaded. Your desktop's terminal will show a configuration menu asking you to choose a default desktop manager (Either gdm3 or lightdm). See the screenshot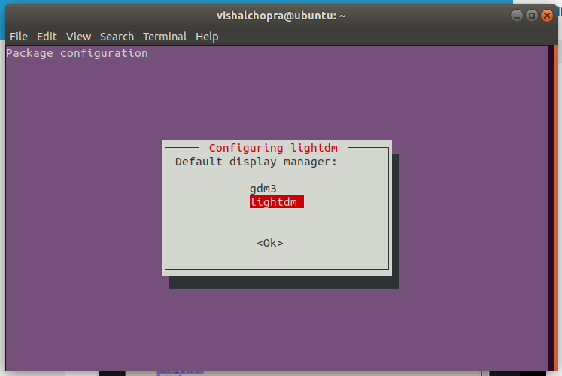 I will recommend you select LightDM for best performence. (use arrow key to select an option and then hit enter for execution.)
Now your desktop's terminal will show you "work in progress". As like the below screenshot.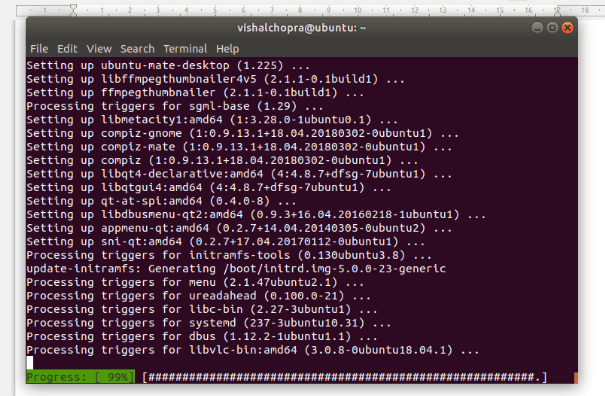 You only need to wait until the progress gets completed.
Step #3: Reboot your Linux [Ubuntu]
Once all the required packages downloaded and gets installed on your Linux Ubuntu. You should now reboot your computer. You can run sudo command as stated below
sudo reboot
Type your password in order to excute the above command.
That's it. Once your linux rebooted then lightdm-gtk-greeter will be started. You may now have an option to select the display manager. Then select "Mate".
You have now successfully installed "MATE desktop environment" in your Ubuntu Linux (16.04 or 18.04 supported version).
You will now have the Mate screen something like below screenshot.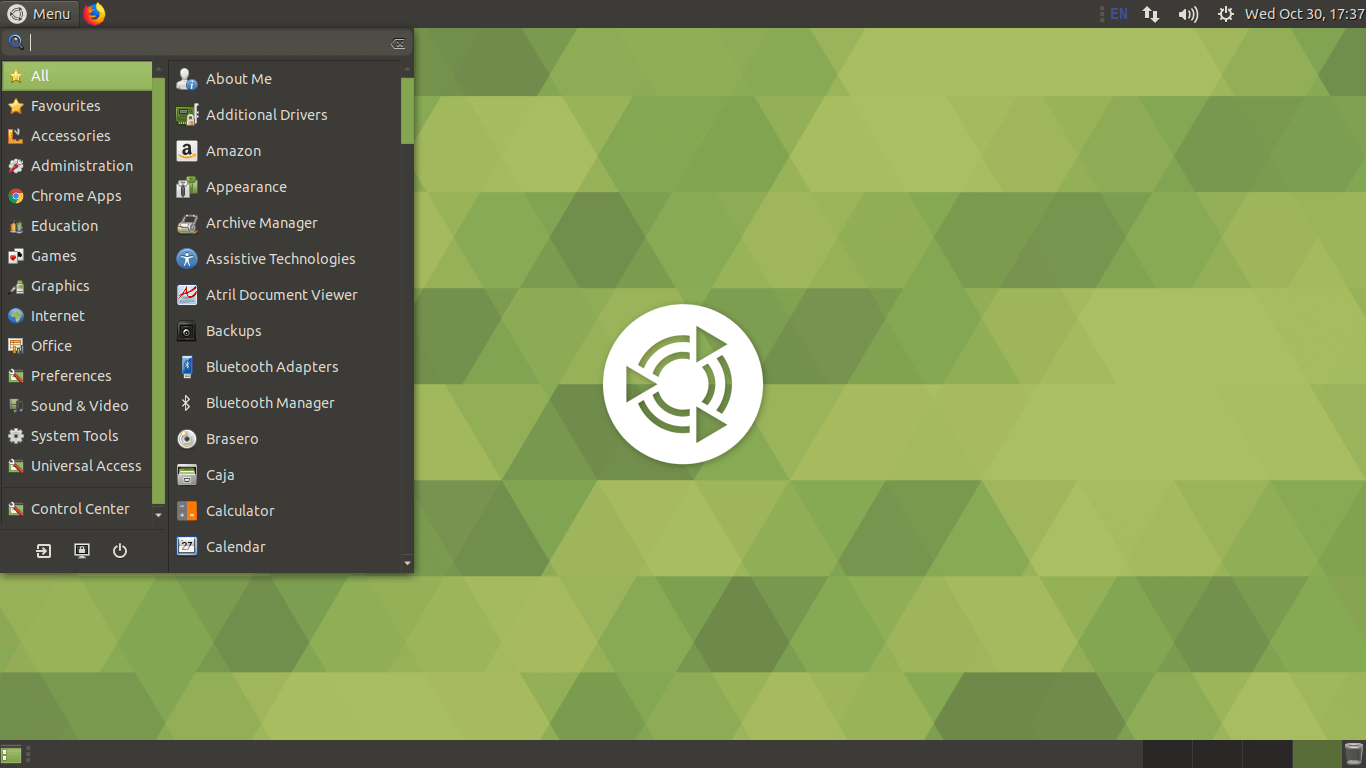 Conclusion
Thanks, I hope the above step-by-step guide has helped you to install Mate desktop environment in your Ubuntu system (whether the version is 16.04 or 18.04). Ubuntu Mate is one of the best alternatives to cinnamon desktop because of its high-performance modules and packages. In your new desktop, you will find your menu at the top left-hand side corner. The menu is just similar to Windows 10 OS which is even tweakable. You can install the Gnome tweak application to tweak the icons and themes.
#mate in ubuntu